If you click here, you should be able to see reference numbers appear against each person in the photo (click here to switch it off again).
Many thanks to Arpad (Burt) Turmezei for sending me this photo.
Back Row: S (Steve) Breed (6T2), JW (John) Hume (6M1), PR (Pete) Lavender (6M1), GF (George) Cutler (6M2), IG (Ian) Collins (6M2), PA (Paul) Beasley (6M1), JM (John) Rivers (6T2), ND (Nick?) Mitchenall (6M1).
Middle Row: SJ (Steve) Russell (6T2), DR (Dave) Andrew (6S3), MH (Mike) Kefford (6M2), SR (Steve) Thomas (6B3), PD (Duncan) Smith (6M2), RW (Richard) Douglas (6S2), PDL (Phil) Brown (6M1).
Front Row: D (Dave) Fayle (6M2), Arpad ("Burt") Turmezei (6S1)..
Here is the team report which appeared in the May 1965 issue of The Wycombiensian.
RUGBY 1st XV
Played 20, Won 11, Lost 9, Points For 230, Against 184.
The First XV has had a moderately successful season, winning eleven out of the twenty matches played. The side was constantly changing, owing to injuries, consequently the cohesion and drive which are necessary to produce a good all-round XV was lacking.
The forwards often lost the vigour and fire to match opposing packs, whilst the backs often failed to find the ability to penetrate the opposing defence. When they did manage to break through, too often passes would go astray or be "put down".
When the side did settle down in the latter part of the season they did produce some good football, especially against Balliol College and R.A.F. Apprentices Halton. In the latter game they produced some excellent rugby which swung from one end of the field to the other, resulting in some good tries by both sides.
S. R. Thomas captained the side from the middle of the back row. He led his team extremely well, encouraging his pack both in word and deed. His work in the line-out always ensured an adequate share of the ball in this sphere.
In the scrums, P. Lavender and D. Andrew proved to a tower of strength "up front". They helped a succession of hookers to gain experience and obtain a fair share of the ball. D. Fayle started hooking at the beginning of the season, but after only two games broke his arm. J. Rivers took his place and, although not a specialist hooker, gradually improved, until he too was injured. D. O'Hanlon then filled the breach until he left at Christmas.
G. Cutler and I. Collins acquitted themselves well in the second row. S. Breed and A. L. Turmezei played extremely well as wing forwards, proving their worth by their ability to "link up" in attack and cover well in defence.
At half-back, P. Brown proved to be a good all-round scrum half, fulfilling the promise he showed last season. His ability to give a good service and defend well was always heartening to both forwards and backs.
At fly-half, Gooderham and Beasley shared the season. Gooderham started off the season, but unfortunately a head injury put him out of the game for some time and he never quite regained his old form. Beasley, who took his place, gradually improved as the season progressed, and towards the latter part played some very fine matches.
In the centre, D. Smith and M. Kefford started well, but when D. Smith was injured Mr. [sic] Kefford was left to lead a rather inexperienced three-quarter line. It is mainly due to his leadership that the new players were able to settle down so quickly. Douglas, who started off the season on the wing, moved into the centre and played well, especially in defence. On the wings Russell and Hume proved to be strong runners with the ball. Mitchenall played most of the season at full-back and once he had gained confidence proved to be a very reliable player.
In all, twenty-four players were required to fulfil the fixture list and many who gained first team experience will be available next year. I hope they have benefited by their experience and will provide the nucleus of next year's side.
The Bucks Free Press also put in a report of the team's performance. The numbers of losses and points scored/conceded differ from those shown in The Wycombiensian (which is more likely to be accurate than the 'local rag').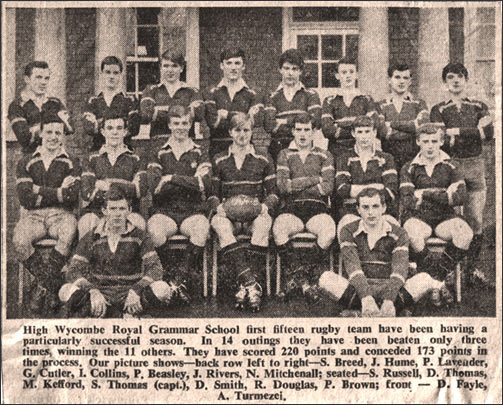 The Bucks Free Press report, kindly sent by Arpad Turmezei